Greetings lovely readers! Hope you're all having a fab week so far! Find myself in a very Braveheart frame of mind right now & am only just stopping myself short from belting out a cry of freedooooooom from the rooftops! But with no more work till next Thursday & Portugal to look forward to this Friday can ya blame me? Woohoo!
A little outfit post for ya today dolls with a bit of a rose theme featuring my current favorite dress as well as some beautiful hand bling. Of all the pretty prints out there, one of my favorites is definitely roses. There's just something so delightfully feminine & vintage about them that I just adore, who doesn't love a bit of Cath Kidston? I'd been hunting for a rose print dress for yonks & finally found "the one" in Topshop...for a fiver no less!
I do heart Topshop dresses, having found some right beauts in the past including this one. As mentioned, this little pretty cost me a bargainous five squids & happily fulfils all my rose print needs. I paired it with a light white cardi picked up from a New Look Xmas sale yonks ago & which...what do ya know? Also has pretty white roses & some pearl beading around the collar :) A weave belt for a bit o' cinching & a pair of shiny red Mary Janes from Dorothy Perkins completed the outfit.
Well almost complete that should be as no outfit is complete without some bling...enter at this point my pretty new rose ring...what do you think?
Isn't it beautiful? This absolutely stunning piece of jewellery is actually cut from amber stone & was made by Henryka, an online jewelers who specialize in amber & silver jewellery. I've always been intrigued by the beautiful amber stone, created from fossilized tree resin or "The Gold of the North" as it is also known by. The stone was highly valued by the Greeks as it was not only said to bring luck but was also believed to have magical properties & was used to fend off asthma, rheumatism & other diseases. As well as the more commonly known cognac colour, Amber also comes in different tones including Cherry, Yellow, Green & Milky White.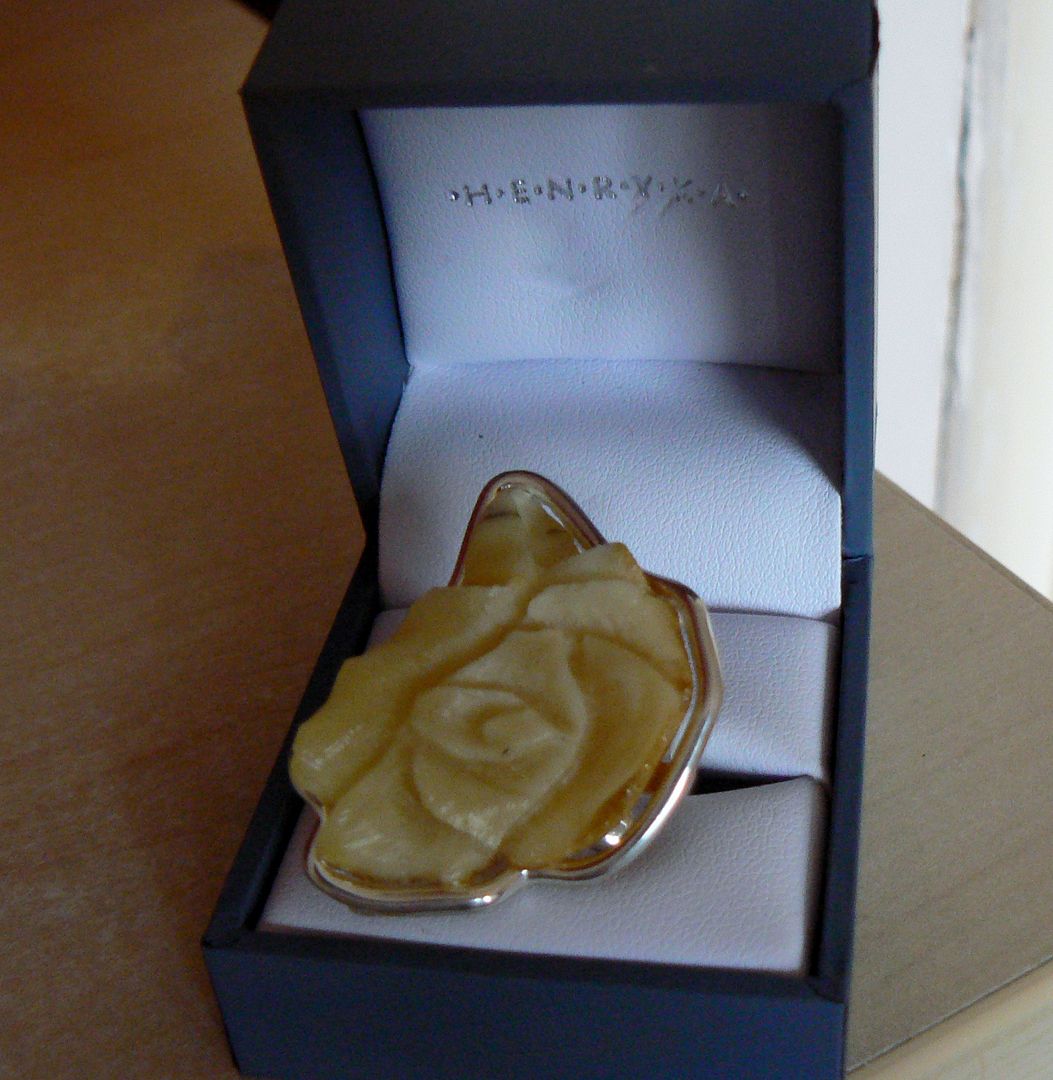 I was very kindly offered the chance to review one of their pretty pieces & this gorgeous Milky Amber &Silver Rose Ring* caught my eye with its beautiful, intricate & unique design. Each piece of jewellery from Henryka is hand-crafted, with no two pieces being the same which I love!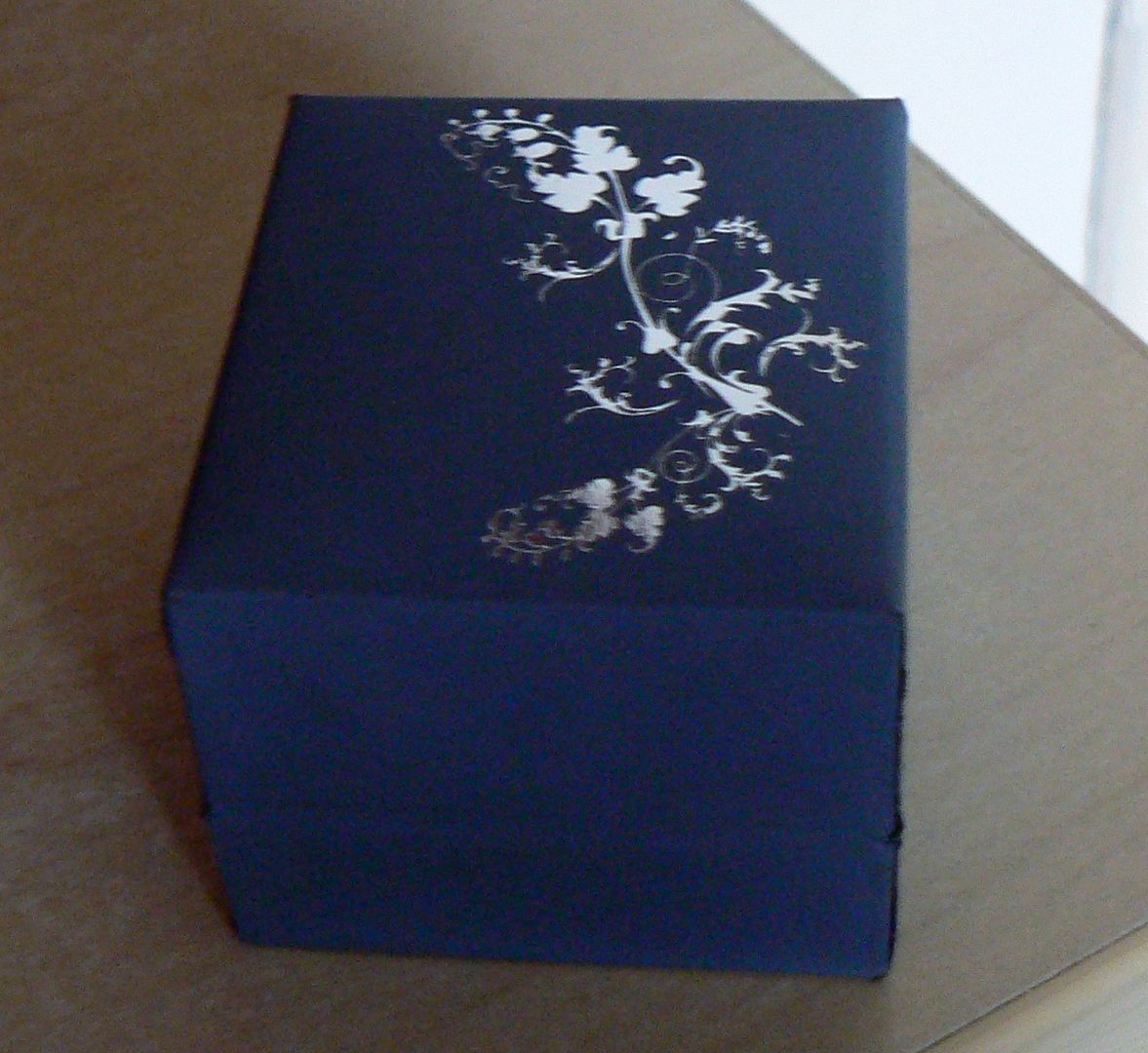 It came packaged in a pretty blue box with lovely silver detailing & the ring itself is a beautifully cut rose carved out from milky amber, surrounded with a sliver of silver around the edge. The ring is also adjustable, perfect from my nimble fingers & goes with with my rose dress perfectly! :D
I'm absolutely in love & have worn it pretty much constantly, its so unique & eye catching in its appearance & exactly the sort of jewellery I like to go for. Henryka jewellery is available to purchase online & they have some truly beautiful & unique collections which would make such a lovely gift or perhaps even a little treat for yourself so definitely worth checking out. My eyes have already been caught by this very gothic-esque Green Amber & Silver Frame Ring....love!
Thanks as always for reading lovelies! Got to go & do that uber fun task of packing now. I'm honestly the most god awful packer, always finding myself including extremely random rubbish & forgetting the obvious essentials...I'm probably the only person in existence who's visited Tenerife & forgot to pack sun cream...the result of which was me coming back looking like a shrivelled tomato & my own parents not even recognizing me at the airport...god help me. Take care & catch up with you all again next week!
Lotsa love to ya!
Disclaimer - *products were sent to me for my consideration. I am not affiliated with the brand nor paid for this post, this review has been as always my 100% honest opinion! :)